One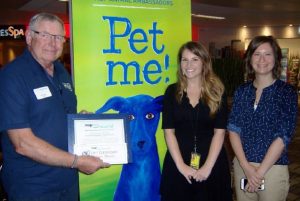 of our members was recognized by MSP Airport with a MSP Nice award for excellence in customer service.
Sadly, Wayne had to say goodbye recently. His friend and partner Boudie went to the Rainbow Bridge, which made receiving the award so bittersweet.
Wayne says in hindsight he never realized or comprehended the extent of the impact Boudie had on others. Through posts on St. Catherine University's student web page, cards from the University Veterinary Hospital, notes from people at the airport, and thank you notes from students at the University of Minnesota – Wayne realized Boudie had a following he could have only dreamed of. Boudie was one of a kind, like that wooden sculpture you find at a garage sale (in Boudie's case the Animal Humane Society), dust off and put a coat of wax on and you find you have a priceless thing of beauty. The world is a better place because of the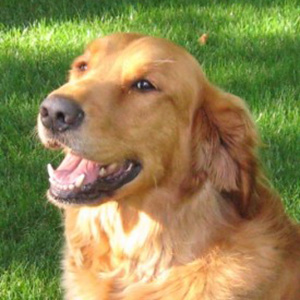 lives he touched.
Boudie went gently to sleep at home, and the vet who assisted the family told Wayne that Boudie will be at the Pearly Gates greeting people as only he could. And in his own way, he will calm fears and help everyone to be at peace.
The MSP airport representatives who knew Wayne & Boudie said: "Boudie first stuck his nose in the office on 11/11/15 asking for this program to "get going". In 2016, Boudie visited MSP 39 times. In total, Boudie was out here 51 times with his last visit on March 21, 2017.
Thank you, Wayne, for sharing this incredible soul with so many of us."
We couldn't have said it better ourselves. Thank you Wayne, for sharing Boudie's gentle spirit with all of us.