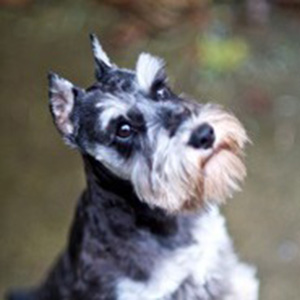 Handler Name:
Kate Jackson
Visiting Team Since:
01/2009
Kate refers to Elsa as the dog with personality plus. Elsa is a very alert dog, and like a good child, she looks adults in the eyes when they are talking to her…mostly with the hope that they are securing a treat! Her haircut also allows for a lot of facial expression – with big bushy eyebrows, a fluffy beard, and ears that are constantly listening for the distant crinkle of a treat bag. Kate says she is a great mix of a mature personality when she needs it and a puppy personality when she's at play.
Kate and Elsa have been visiting at the Melrose Eating Disorder Center since 2011. She is often greeted by newer patients with the question, 'Is this the dog that does all the tricks?' By the end of the visit, there is usually at least one patient who is trying to figure out how to sneak Elsa in their room overnight! Kate says she is always in awe of Elsa's ability to improve patients' moods by simply being herself.
Away from visiting, Elsa enjoys attacking her large plastic egg-shaped toy outside and pulling up grass in the process. She also enjoys always keeping wandering squirrels and rabbits on their toes in the backyard.