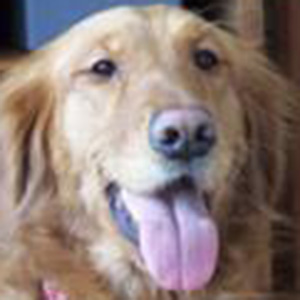 Handler Name:
Cory Houseman
Visiting Team Since:
01/2008
Cory volunteers in the training school at Animal Humane Society. One evening he went through the adoption area and saw Gracie in the quarantine area with kennel cough. He put her on adoption hold and began the process of talking his wife into getting another dog (they already had two). Cory learned that Gracie had three homes previously, and yet she was only nine months old. Together, the pair began obedience training at AHS, and one of the instructors told Cory that Gracie should be a therapy dog. She was easy to train and passed all the therapy evaluation requirements with ease.
Over the years, Cory & Gracie have visited as a North Star Therapy Animals team in the R.E.A.D. program, the Tubman Center, Avenues for Homeless Youth, and the Hennepin County Juvenile Detention Center. On one occasion Cory & Gracie were making their way to the detention center from the nearby HCMC parking ramp, and Gracie plopped herself in the middle of a group of 10 nearby paramedics as if to say "Ok, who's ready to pet me??"
Cory believes Gracie was born to be a therapy animal, since everyone she meets falls in love with her. But when she's not reaching out to others, Gracie loves to be at the lake where she can swim, watch small fish around her feet in shallow water, go fishing in the boat, and chase chipmunks…though she's never actually caught any. True to retriever style, she'll also fetch any ball you throw for her.