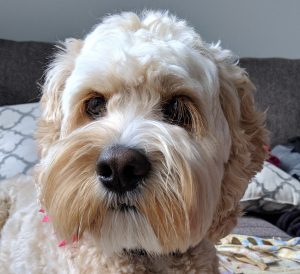 Handler Name:
Marit
Visiting Team Since:
06/2018
Lilly is a sweet and curious cockapoo who will flutter her long eyelashes until she gets your attention. Her nickname is "Lashes". She is the ultimate tease, being coy and shy at first, but after getting your attention, she will show you how much she truly loves you.
Getting and giving cuddles, hanging out at the dog park to strut her stuff, and visiting with the little ones are her favorite pastimes. She especially enjoys visiting at Maple Grove Hospital.
Lilly loves to pose for pictures, so follow her on Instagram at @lillywuf.