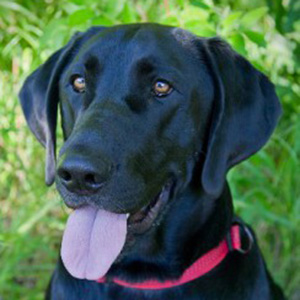 Visiting Team Since:
01/2013
Otto is a fun-loving Labrador mix who was born in 2011. Although he was part of an accidental litter and was the last of his siblings to find a home, his handler Anna believes that's only because they were meant to find each other. Anna adopted Otto when he was one year old through a rescue organization in rural Wisconsin. "Otto is the best kind of dog because he adapts to whatever situation he's in," Anna says. "When it's time to go for a run or a hike, he does his pogo bounce in the air in anticipation. But when we walk into a patient's room at the hospital or he's greeting an elderly nursing home resident, he's incredibly calm and mellow."
This calm visiting persona is exactly what makes Otto so well-suited to helping others get over their fear or reservations of dogs. He's met a number of people through his visits who had never previously met or touched a dog before, as well as children who needed help getting over their fear of dogs after a negative experience.
As a North Star Therapy Animals team, Anna & Otto participate in the R.E.A.D. (Reading Education Assistance Dogs) program through the Hennepin County Library system. They also visit in memory care at Arbor Lakes Senior Living and make regular visits to Maple Grove Hospital where Otto became the hospital's very first therapy dog. One of their most memorable visits happened in the emergency room staff area of the hospital. A nurse who loved dogs volunteered to be the recipient of one of Otto's "snuggles", where he places his head on their shoulder. Otto held the position for several seconds while the nurse hugged him back and soon had tears streaming down her cheeks. Anna explained, "I'll never know what tough stuff that nurse was going through that day – but it was a powerful reminder of just how incredible animals can be at connecting with us on such a personal and emotional level."
When he's not visiting, Otto's favorite activities include anything outdoors – whether that's swimming, hiking, camping, going for a run, or playing endless fetch. When everything outside has been given sufficient time for sniffing, he's content to take a long snooze with his head resting on Anna's lap.