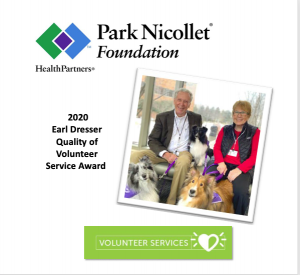 Congratulations to North Star Therapy Animals Founding Member, Ardie Arko, the 2020 Earl Dresser Quality of Volunteer Service Award winner!
For 14 years, Ardie has been delivering love and comfort to Park Nicollet Methodist Hospital patients with the help of some other important volunteers: her therapy dogs . . and husband John Arko.
Ardie is the lead volunteer for Park Nicollet's Caring Canine program that she helped develop in 2006. Today 22 canine teams bring joy to patients in Park Nicollet Methodist Hospital, clinics and specialty centers.