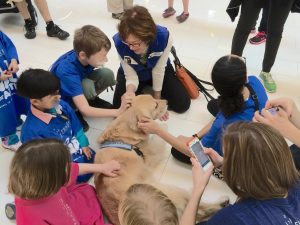 Therapy animal services are used by a variety of facilities, such as hospitals, elder care, assisted-living, hospice, shelters, schools, libraries, and more. No matter the setting, the goal is to bring positive results, whether helping with a specific therapeutic objective, or simply brightening someone's day.
Wondering if your pet would make a good therapy animal? Learn more on our FAQ page.
Want to know were North Star Therapy Animals go? Learn more on our Facilities We Visit page.