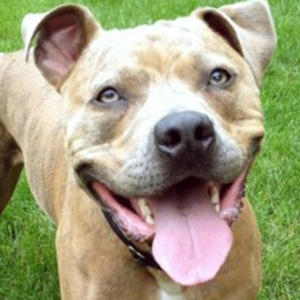 Handler Name:
Kim Walsh
Visiting Team Since:
01/2011
Diesel is a Pitbull and a therapy dog, which makes him pretty unique. Kim describes Diesel as a very sweet lapdog who loves to entertain everyone. Oh, and he's also an actor and model! Diesel was cast in the movie "The Jingle Dress" and recently was a model for Target's Halloween costumes. Diesel is very smart – Kim says he picks up on everything very quickly…which can be a good thing or a bad thing! He knows several tricks including: shake, high-five, roll over, play dead, spin, speak, bear, wave, kisses, hugs, go find, sit pretty, and will also jump into Kim's arms. Diesel absolutely loves children, and they adore him for all the tricks he performs.
Kim & Diesel have visited patients in most of the hospitals in the Twin Cities as well as many libraries through the Reading Education Assistance Dogs (R.E.A.D.) program. The team also visits Bruce Vento Elementary School in St. Paul. Kim explains, "We were called there because a first grader had not made any attempts at communicating while in school. They call that behavior "selective mute" and it's not as rare as I initially thought. Their hope, with weekly work with Diesel, was that she would start talking by the end of the school year. Diesel felt a little pressure but he was up for the challenge. By the end of the first day, she started pointing at dogs in the stories I was reading (which is more communication than she had previously made). When we reported for our second day, she immediately sat down next to Diesel and started mouthing words (no whispering yet but still progress). After I read a few pages, there was a dog in the book that she pointed to and actually audibly said, 'Diesel Dog'. From that point on, she started to gradually talk more and more in school. At first, she would only talk when Diesel was in the room, but we gradually started having her work with her teachers while Diesel was there in hopes she would talk even when he wasn't there. It worked. By the end of the school year, she got up in front of her entire class and showed off Diesel's tricks – she even read a book to everyone! The little girl still struggles a little with speaking in school but never when Diesel is in the room with her. Her confidence around him is truly remarkable and the bond between them will forever be held in my heart."
In his spare time, Diesel enjoys running with his mom, visiting the dog park, snuggling with his sister Daisi (a five-pound cat), and giving love to everyone who wants it.