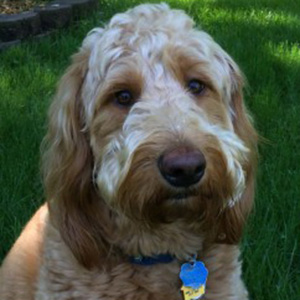 Volunteer Since:
2013
Birthday:
01/04/2012
Breed:
Goldendoodle
Handler Name:
Sharon Garber
Though Sharon has had many dogs over the years (and has dearly loved each and every one), she says Herbie surpasses all of them with his combination of playfulness, obedience, good looks, and ability to bring joy to all who meet him. Looking like a stuffed teddy bear entices strangers to plop on the floor in front of him and politely ask if they can hug him. He has happily obliged to infants as young as a month old and residents of nursing homes approaching their 95th birthdays. Herbie has plenty of energy; he can return from a 4 mile walk and take laps around the yard, yet he will remain calm as 15 students surround him all wanting attention at the same time. Sharon also says Herbie is the only dog she's met who will not reach up to the table to steal a prime piece of roast even when left to his own devices.
Sharon & Herbie make regular visits as a North Star Therapy Animals team to three nursing homes, a day program for developmentally disabled seniors, and a women's shelter. They also visit through the Reading Education Assistance Dogs (R.E.A.D) program and have visited in the Plymouth and Maple Grove libraries. Additionally, the team has taken part in several special events, such as visits to the Carlson School of Management and the Plymouth Pet Expo. Sharon says the visits are quite diverse but all provide a wonderful sense of satisfaction. "At the Carlson School of Management, I loved watching an MBA student in a sports jacket and tie plop onto the floor in the middle of the atrium to commune with Herbie before heading back to work."
Herbie enjoys an active social life with his girlfriend Maggie Sue (a German shepherd) and best friend Walter (another doodle) and likes nothing better than inviting them over for a play date in the backyard. When a friend isn't available, Herbie enjoys all of his stuffed toys. He quickly removes any squeakers or stuffing, but keeps the bits and pieces forever; he has many "blankies" and loves them all. Fetch is another favorite activity, but if no one is available he plays by himself, taking a ball to the top of the steps, shoving it overboard and springing after it. It's always playtime for Herbie, unless he's taking a nap in one of Sharon's shoes.
Favorites
Treat:
Lamb Lung
Book:
Herbie's New Home
Hobby:
Removing Squeakers from Toys
Trick:
Take a Bow
Animal friend:
Maggie Sue
Place to be petted:
Under his Chin
Way to show affection:
Flopping on top of me
"Perfect Pandemic Companion"