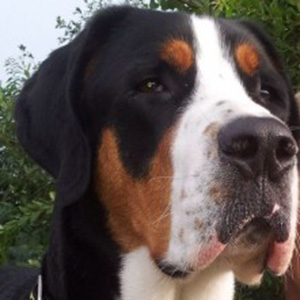 Handler Name:
Woody Johnson
Visited From
: 2012-2017
"What we have once enjoyed, we can never lose. All that we love deeply becomes part of us." Helen Keller
With deep sympathy we acknowledge the passing of Rye, a Greater Swiss Mountain Dog who volunteered with his handler Woody Johnson as a faithful North Star Therapy Animals team.
Rye was a therapy dog for most of his too short life. He wasn't a traditional therapy dog in that he didn't crave affection from others. Instead, his strength was in his patience, presence, and subtle affection he offered. Rye was described as a "very chill dog" multiple times by those he visited. This made him a wonderful therapy dog in visits to libraries, colleges, and special events with large numbers of visitors. His striking appearance and size drew people to him, and he never shied away from the attention, even when it came in bunches. On top of that and more, he had a certain goofiness that was so very endearing. He will be greatly missed.