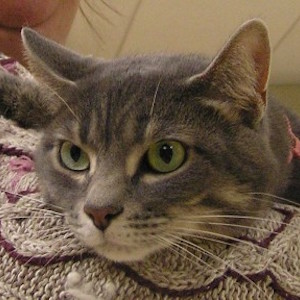 Handler Name:
Carol Pawlicki
Visiting Team Since:
01/2007
Molly May (born 2006) has visited with people of all ages, but her handler Carol says Molly May's true calling is visiting with senior citizens. Carol says this is because they have plenty of time for her to lie in their laps and be petted, which gets Molly May's purr motor running and helps to heal their aches and pains so they can feel better. She will also knead carefully (no claws) in exchange for the affection. Molly May's favorite color is "pretty pink", and many of her adoring fans will honor her by wearing pink on the days she comes to visit.
Carol & Molly May have visited together since 2007 with memory care residents at Catholic Eldercare. The team has also participated in various other programs, such as an outreach program through the Hennepin County Library System designed to bring the love of reading to senior citizens. Molly May has also soothed college stress for students of the U of M through their PAWS program and brings smiles to Chandler Place and St. Anthony Healthcare through the U of M PALS program. Additionally, the team has also participated in various special events for North Star Therapy Animals, promoting the diversity of our therapy animals by demonstrating to others that cats can make great therapy animals!
When Molly May's purring batteries start to run low, they can easily be recharged by being petted or soaking up sunlight on a favorite window ledge at home. During TV time you'll find Molly May curled up next to or on Carol's lap. It's sometimes tough work – getting so much wonderful attention as a therapy cat – but if anyone is up to the task it's certainly Molly May.