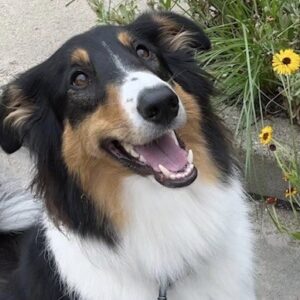 Volunteer Since: 2022
Breed: Rough Collie Mix
Handler Name: Susan Murray


Favorites
Treat: Anchovies and Peanut Butter
Hobby: Wrestling with sister Nora
Store: Half Price Books!
Way to unwind: Dog park trips and snuggles
Animal friend: Sister Nora and Cousin Kirby
Place to sleep: On her back anywhere!
Place to be petted: Neck scratches
Way to show affection: She loves holding your hand

"Hi, I'm Tilly and I just can't stop smiling!"