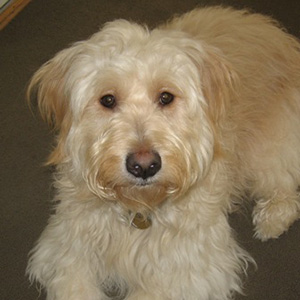 Visiting Team Since:
01/2009
Bentley is a mixed breed rescue who was adopted at the age of 9 months from a loving family that had to surrender him due to family health issues. Right away Renee knew he had the personality to be a great therapy dog. Bentley loves people even more than he loves other dogs. He loves to give kisses (lick, lick lick) but that was also his biggest challenge – learning not to kiss when "on duty".
Renee & Bentley started visiting as a North Star Therapy Animals team just after he turned 2 years old. They are regulars at Courage Kenny Rehabilitation Institute, where they visit residents with traumatic brain and spinal cord injuries. An especially touching moment happened when Bentley was next to a young woman on her bed, and she moved her hand ever so slightly to touch his head. The young woman's parents were there and exclaimed – with tears in their eyes – that it was the first time she had moved that hand since her accident. Bentley also participates in pet therapy programs for college students at the University of Minnesota and St. Catherine University and brings joy to seniors he visits – both in the neighborhood and in a memory care unit.
Off duty, Bentley loves to gaze out the windows or sit on the patio and watch the world go by. He sits patiently by the oven when he knows Renee is baking his favorite pumpkin dog biscuits and at night comes running when he knows it is time to brush his teeth – which is one of his favorite things.