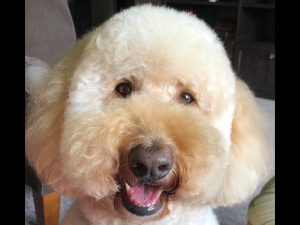 Volunteer Since: 2017
Birthday: 05/17/2014
Breed: Goldendoodle
Handler Name: Laura Pioske


Favorites
Treat: Yes Please! Anything!
Place/s to visit: Nursing Home, Library, Schools
Book: Biscuit's Birthday
Hobby: Chasing Chipmunks
Way to unwind: Loves to take Walks and Nap
Animal friend: Younger Sister Ruby
Place to sleep: On the couch or walk-in closet
Way to show affection: Places her paw on your leg

"Give me a treat and I'll be your friend for life."