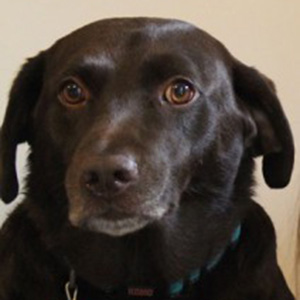 Handler Name:
Cheryl Bann
Visiting Team Since:
01/2013
"Wilson came to us," reports handler Cheryl. "We know there was indeed a 'higher paw' in how he came into our world." After grieving the loss of a much beloved retriever/bloodhound mix named Amos, it was time for Cheryl to add to her family again. Searching and visits warranted some very nice dogs, but for some reason not the right fit. Wilson appeared on a website with no picture and Cheryl immediately knew he was the one. Since Cheryl was out of town, Stan (her significant other) agreed to go and see Wilson up close and in person. That morning, as he was reaching for his keys, a rarely seen picture of Amos flashed on his computer's screen saver. To Cheryl that was a clear sign, as was the immediate relationship that formed with Wilson and their existing lab named Sadie. When Stan returned home and set the keys down, the screen saver again flashed the picture of Amos, and the two knew right then and there the right decision had been made. 3-1/2 year old Wilson moved in and it was like he had been there all along.
Wilson and Cheryl went through training to become a registered Pet Partners team. Cheryl says it was challenging at times, as Wilson had some leftover challenges because of his early care (such as not liking enclosed spaces – possibly from a great deal of time being kept in a kennel), but was able to successfully work through them. For that and many other reasons, Cheryl is so proud of him.
Cheryl says Wilson is particularly astute as a therapy dog as he wants to greet everyone. As a North Star Therapy Animals team, Cheryl & Wilson regularly visit at Methodist Hospital, the VA Hospital (Cheryl is retired military so this is a special honor), senior care facilities, Parkinson's care facilities, and the MSP Airport. Wilson is also a Reading Education Assistance Dog (R.E.A.D.) and visits at several Hennepin County Library locations. Additionally, the team has also helped their parish, Pax Christi, to get a pet ministry program in place.
Wilson is characterized as a lovable, huggable, and really wonderful companion. Wilson and Sadie continue their wonderful friendship, and he exhibits many uniquely "Amos" behaviors, such as lying in the middle of the kitchen (to be stepped over while making dinner) and being an "A number one" cuddler. In his free time, he loves to go for walks, go camping, playing with his buddy Sadie, cuddling with Cheryl and Stan. "It is my hope that he brings a ray of sunshine to everyone he meets," says Cheryl, "and we're truly blessed to be able to do this type of activity."