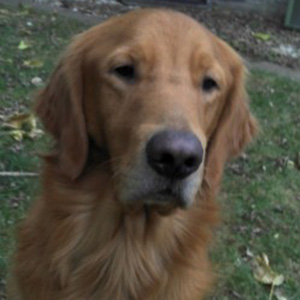 Handler Name:
Chad Burgess
Visiting Team Since:
01/2010
Chad describes Gopher as extremely intuitive, and says he never ceases to amaze him. Chad had a goal of participating in therapy animal work even before he and Gopher met, yet Gopher's natural tendency toward his work is almost uncanny. Chad says Gopher is also a very opinionated guy…and also particular. Gopher is quick to positively correct other dogs; including his "sibling" Squirrel when he thinks they are not doing what is expected. Gopher almost always sits in an almost regal pose.
Chad & Gopher visit as a North Star Therapy Animals team throughout the Twin Cities area, and Chad shares some of their experiences at "Gopher Sessions" – a blog he hopes encourages others to consider working with their dogs. Gopher has quite the following, and one of Chad's favorite stories involves the critical role Gopher played in the last months of a special patient named Ian – and the very special connection Gopher made to help repair a relationship between a father and his son. The full story demonstrates the incredible work Chad & Gopher do together, and can be found here:http://hrhkinggopher.blogspot.com/2015/01/the-huff.html
When Gopher isn't visiting, he's a typical fun-loving golden. He loves to go for walks, hikes, jogs, as well as plays fetch with his Chuck-It toy. Gopher also loves to be with some of his favorite people – names Chad can't even mention without sending Gopher into a tizzy of anticipation.