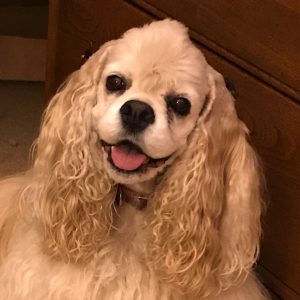 Volunteer Since: 2017
Birthday: 07/06/2009
Breed: Cocker Spaniel
Handler Name: Sheryl Juhl


Favorites
Treat: Really, any kind of food!
Toy: Loud Squeaky Toys
Sport: Obedience, Dog Shows
Animal friend: Gracie, her daughter
Place to sleep: Mom and Dad's Bed
Title/trophy: UDX2, CM3, VER, TD, CGC
Place to be petted: Tummy Please
Way to show affection: Kisses and Wags!

"Karma has never met a person she didn't love!"