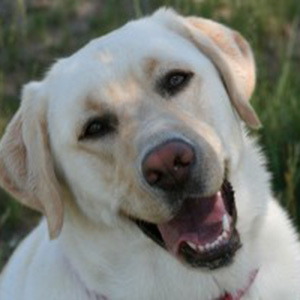 Visiting Team Since:
01/2011
Kodi – a.k.a. Rich & Sassy's Dakota Special – is named after a Famous Dave's BBQ Sauce! Despite her sassy name, Lisa says Kodi is incredibly mellow and that nothing phases her. Even as a puppy, Kodi never jumped up or got overly excited. Lisa shares that, even back at age 3, if they took too long of a walk around the neighborhood, Kodi would just sit down on the curb, as if to say "I'm done" in protest of the long walk. She loves people and seems to have an innate sense for those who could benefit from petting her.
Though Kodi now lives in "semi-retirement", the team together have quite a visiting history. They visited with autistic middle school students as well as special needs preschool students at the Fraser School in Richfield for two years. Lisa says Kodi was absolutely wonderful with the kids, and that she was particularly good at warming up kids who were previously very afraid of dogs. In fact, she became so comfortable with the kids that she would let them lead her around the room, listening and performing their commands of 'sit', 'heel', and 'lie down'. "It gave the kids such a sense of confidence, along with huge smiles," Lisa recalls. Kodi was also a successful Reading Education Assistance Dogs (R.E.A.D.) partner and loved all her visits to area libraries. Lisa & Kodi were also a visiting team at an outpatient cancer clinic as well as an inpatient cancer ward of a local hospital. Lisa loved hearing all the patients' stories they shared about their own dogs. Additionally, the team participated in nursing home visits, special school events, and other community events.
These days, Kodi enjoys her "chewy time" – receiving her daily dog chew. She chases the occasional tennis ball, though only if there's no competition. When all is said and done, Kodi loves to lie outside the front door and watch the world pass by. Though Kodi may now be mostly retired, she is still busy at work training in her younger sister, another yellow lab.