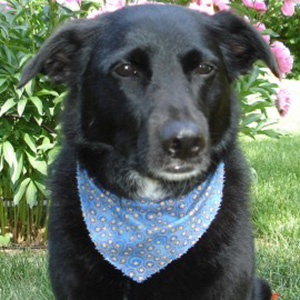 Handler Name:
Linda Frey
Visited From
: 2007-2015
Retired: 2015
The day Linda went to adopt a new puppy, she had already picked out the one she wanted from the Carver Scott Humane Society website. Linda arrived first thing in the morning at their adoption event, but another couple was just signing the paperwork to adopt the puppy Linda had chosen…she was too late! Disappointed, but having made up her mind to adopt that day, she then settled on a small black puppy that was quietly lying curled up in the grass. This puppy was a three month old girl named Ellie, which Linda changed to Murphy.
Surprisingly, Linda later found out that the couple who had adopted the other puppy had to return her because their apartment building didn't allow animals. Though she later found a home with her original foster family, the puppy had been taken out of the picture just long enough for Linda to adopt Murphy Ellie. And while the other puppy became a great family dog, she wasn't therapy animal material. All these facts Linda attributes to fate.
As part of North Star Therapy Animals Murphy thrilled the clients at an adult day care for close to eight years, showed her tricks to the many families at the Ronald McDonald House – Twin Cities, and listened intently to so many stories read by children in libraries through the Reading Education Assistance Dogs (R.E.A.D.) program through the years.
Her favorite toy is anything that squeaks, so she loves listening for the chipmunks in and around the deck and loves to give chase whenever ones dares to come out from cover. Even now as Murphy nears retirement and struggles with arthritis in her hips, she still perks up when the grooming is over and the scarf goes on her neck; she is ready to go and meet some people. "She was destined to be a therapy dog. I really love her!" Linda says.