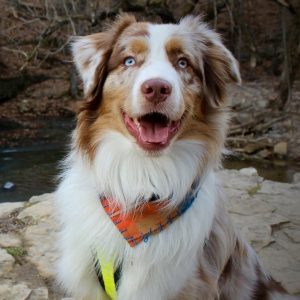 Volunteer Since: 2019
Birthday: 01/22/2017
Breed: Australian Shepherd
Handler Name: Lindsey Wallace


Favorites
Treat: Charlie Bears
Place/s to visit: Mayo Clinic inpt psych teens
Toy: Stuffed Caterpillar-Mr. Pillar
Sport: Agility and Frisbee
Hobby: Dog sports!
Trick: "Toes!"
Way to unwind: Watching out the front window
Place to sleep: By any Window, Keeping Watch
TV show or movie: Friends and The Office
Title/trophy: Pet Partner's Pet of the Year!
Place to be petted: Under the chin/ears/neck

"Just a wiggle butt lovin' life!"