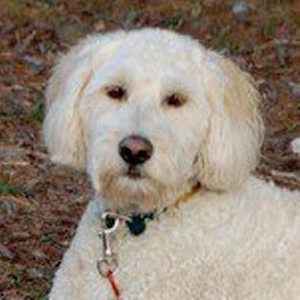 Visited
: 2013
Randee lost her partner and best friend on January 27, 2015. Randee explained the two were playing on a pond in the woods near their house. Bailey chased a deer deeper into the woods, then onto a small road where he was hit by a car. He died instantly.
To honor the amazing work Randee & Bailey did together, and to memorialize the happy and loving dog Bailey was, we share his recently-written bio with you just as if Bailey were still here with us. It is so important that we celebrate what a wonderful dog Bailey was and all he gave to others, but also acknowledge what a tremendous loss Randee and John have experienced in losing their beloved friend.
Bailey (born 2010) is a rescue dog that was always loved. His hander Randee knows this because he loves everyone he meets – children, grandmas, dogs, and dog owners. During walks, Bailey takes time to greet everyone he passes with a big smile and a leap of joy. His favorite position for getting petted is to lean into you for a side rub or roll over for a belly rub – and he also loves group hugs!
As a North Star Therapy Animals team, Randee & Bailey visit grandmas at home, friends in hospitals, students in college, and children in libraries through the Reading Education Assistance Dogs Minnesota (R.E.A.D.) program. According to Randee, Bailey loves to hug, play, and make people feel happy – as happy as he is to be there with them.
When he's not busy making people happy through his visits, Bailey loves to play with balls and stuffed toys, tossing them into the air and chasing them. Sometimes he even chases his own tail, and when he catches it he plays tug-o-war with himself! Bailey also goes camping and canoeing with kids. He carries his own pack with his food, bowl, and blanket. Winter is a favorite time of year – during which he plays with snowballs and loves to run and slide across the snow as far as he can.