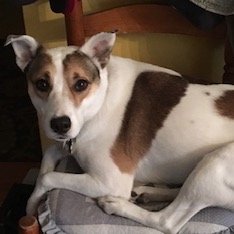 Volunteer Since: 2019
Birthday: 10/12/2015
Breed: Aust CattleDog/Jack Russell
Handler Name: Leslie O'Donnell


Favorites
Treat: Cheese Balls
Place/s to visit: Nursing Home, Camper, Lakes
Toy: Lamb Chop, loves squeaky toys
Sport: Swimming after ball or stick
Trick: Jumping through Hula Hoop
Animal friend: Our cats Samsonite & Stanlee
Place to be petted: Belly rubs are the best!
Way to show affection: Talking to us Arooh Arooh!

"Luna will do anything for a Cheese Ball!"