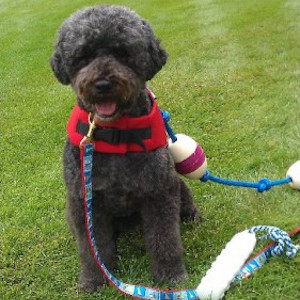 Visited
: 2014
In May 2014, Lucy passed away after a brave battle against lymphoma. Lucy's partner Eileen Roston shared the following:
"From the very beginning I had a very special connection with Lucy. Her eyes just melted me. I felt a connection with her that I never felt with another dog. I am a dog lover and have loved all my dogs, but Lucy was the best.
She earned many titles and many ribbons in her lifetime. Her call name is Lucy: KALISTA'S I'M GILDED TWO THD CDX RN NA NAJ WWD AKC THERAPY DOG.
She also helped me with my training classes. She was great for demonstrations and helped mentor all the new puppies in my playtime class.
Lucy and I had to go through many hurdles to start the Reading Education Assistance Dogs (R.E.A.D.) program at School District 281 which previously had a no pet policy. Lucy helped pioneer the R.E.A.D. Program for District 281. Jill Kaufman (district employee) sent the following note after Lucy died:
'Today, there are 10 R.E.A.D. teams in our district. We will always be grateful to Lucy for being VIP's first four-legged and furriest volunteer.'
Thanks for honoring her. I will miss her forever."
Thank you, Eileen & Lucy – for all that you have done for others. Rest in peace, sweet Lucy.