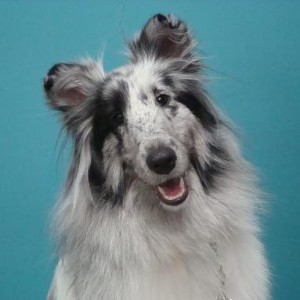 Visiting Team Since:
01/2013
Mia, born in 2012, visits with her handlers John and Ardie, who say her frisky demeanor changes to extremely gentle when wearing her bandana and visiting with children.
Mia visits with John and Ardie as a North Star Therapy Animals team at Children's Hospitals and Clinics of Minnesota – Minneapolis in the pre-op area. It can be a very scary time for those too young to understand. During her visits, she has calmed many children as well as their parents. For example, some children are afraid when the nurse removes the IV after surgery. Placing Mia next to them on the bed and letting them pet her while the nurse removes the IV has worked 100% of the time. Mia's visit to the rooms also calms the parents and many have thanked her for coming at the perfect time. Mia has also worked her magic while visiting in the hospice and other areas of Park Nicollet Methodist Hospital. She has been more than welcome because she always makes families feel just a little bit better.
During her off time, Mia enjoys her agility classes as well as running in the yard with her best friend and fellow therapy dog, Murray.