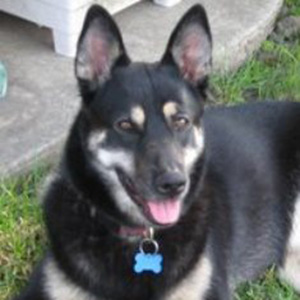 Handler Name:
Kevin Nosbisch
Visiting Team Since:
01/2012
RETIRED
Kevin describes Jess as a very calm and gentle soul who loves children and believes everyone should love her back. Her friends on therapy visits may notice she has three legs – just don't ever feel sorry for her! As dogs are so great at showing us, she's proof that she's no different or less capable than anyone else.
Jess loves kids and enjoys being part of therapy services at Children's Hospital where she has developed many great friendships. She especially loves working individually with the children to make their therapy session more fun, or to help a child get over their fear of dogs. She also enjoys her weekly visits to two of the autistic classrooms at St. David's Center. Jess and Kevin also visit at the Cancer Center at Methodist Hospital where Jess has memorized all the staff locations that offer treats. She is quite motivated by snacks, and is not too proud to resort to a little begging!
Jess lives with three cats, one of which is chronically ill. Each morning she goes to her brother and pins him down to lick his face clean. Life isn't all work, though, so when Jess isn't volunteering or taking care of others, her favorite activity is to go for long off-leash walks with her dog friends Schultz and Dutchess.