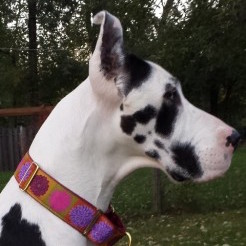 Handler Name:
Kristen Kenney
Visiting Team Since:
01/2013
Rogue does not know a stranger. Her handler Kristen says everyone is greeted like her very best friend – with direct eye contact and the swooshing of her long, heavy tail. She frequently leans on her new friends or puts her big back end in their lap. If someone stops petting her, it's not unusual for her to nudge their hand with her nose.
Kristen and Rogue visit as a North Star Therapy Animals team at Children's Hospital St Paul in the surgery, nuclear medicine/radiology, and short stay units. Kristen says Rogue has an uncanny ability to quiet a crying child when they are first waking up from anesthesia, which is a welcome greeting but also provides parents with some relief.
Rogue loves to strut her stuff in conformation events and has earned her AKC championship and grand championship. She especially likes her daily walks or off leash hikes, even running along the bike is her speed. Rogue lives with fellow therapy dog Ramone.