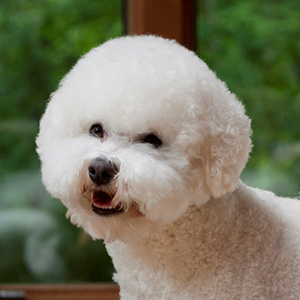 Visiting Team Since:
01/2013
Rider was born in 2010, and Shirley describes him as a friendly yet laid back dog who tends to be more of a couch potato. Rider loves to be on someone's lap or lying beside them. He may be calm, but when Friday arrives and Shirley get his collar and leash for visiting, he jumps all over the place and is very anxious to get in the car.
Every Friday morning the team goes to Three Links Care Center, where they have been visiting as a North Star Therapy Animals team since 2013. Shirley & Rider spend two hours every week visiting residents of the center. The staff provides a list each week of residents that do not have family or friends visit them, and those special residents are more than eager to see Rider once a week. Likewise, Rider is always eager to see them. Shirley says there are some very big men in the facility, and they like it when Rider sits on their laps so they can run their hands through his soft fur and snuggle. Shirley enjoys seeing the smiles on their faces, and it makes her day when she hears comments from residents like, "Rider you're my buddy", "You're my precious baby", "I love you Rider", "You make my day Rider", and "You are the best dog ever!"
Rider had been visiting a very sweet elderly woman who loved to run her hands all over him whether it was in her chair or bed. Rider would remain ever so still soaking up her gentle strokes and usually gave her a kiss on one of her hands. Shirley was saddened recently to learn the woman had passed away. Much to the surprise and delight of the woman's family, together Shirley & Rider went to the funeral home. After an exchange of condolences, Shirley took Rider over to the casket to see his friend. She held him in her arms so he could peer in, and just like that Rider started to make a move toward his dear friend. Of course Shirley did not allow it, but was struck by the thought that Rider believed his friend only to be sleeping and wanted to cuddle with her. Even in an unfamiliar place, he recognized her immediately and his first reaction was to share himself with her. It was a proud and heartfelt moment for Shirley as she tried to hold back tears.
Rider loves to spend his off time around the house with two other Bichon Frises. One is his littermate, the other has just finished his CGC (Canine Good Citizen) program. Rider is Shirley's "Velcro Dog" as he is always by her side, or on the pillow above her head when she sleeps. Between her three dogs, Shirley always has least two close by and says she couldn't ask for more. "Rider has fulfilled for me everything I ever wanted in a therapy dog," Shirley explains, and adds "It is truly very, very gratifying work."